Ram Truck Commercial Lineup
Ram Truck Commercial Lineup
Written by Len Stoler Dodge Chrysler Jeep
Whether you need one for your business or personal use, commercial vehicles are an integral part of everyday life. Businesses use them for daily transport of a ton of material, while individuals use them to hitch a boat or get their biggest jobs done. RAM takes pride in all of the commercial vehicles they sell, and each one performs a different function. For example, the RAM ProMaster and the ProMaster City are used for business that has to make a lot of deliveries on time, while the RAM 1500 and 2500 are more geared toward personal use and help you haul gravel, dirt, wood, and you can even use a tow hitch to haul boats and small homes around. Below we have compiled some of the best RAM commercial vehicles out there so you can decide which one is best for you!
RAM ProMaster
If you own a business, chances are you have taken a look at the RAM ProMaster. The ProMaster has the capability to get the job done with a powerful 3.6-liter V6 under the hood that makes 280 horsepower, 260 lb-ft of torque, and the ability to haul up to 4,680 pounds. One of the best things about the ProMaster is you can go 10,000 miles between oil changes, allowing you to focus more on deliveries and less time at the garage. Several terrific technological advancements are available for the ProMaster, including forward collision warning, a digital rearview mirror, and newly available blind-spot monitoring and rear cross-path detection. You also get a Uconnect system with a 5-inch touchscreen.
3.6-Liter V6 Engine
4,860-Pound Payload Capacity
Blind-Spot Monitoring
Uconnect System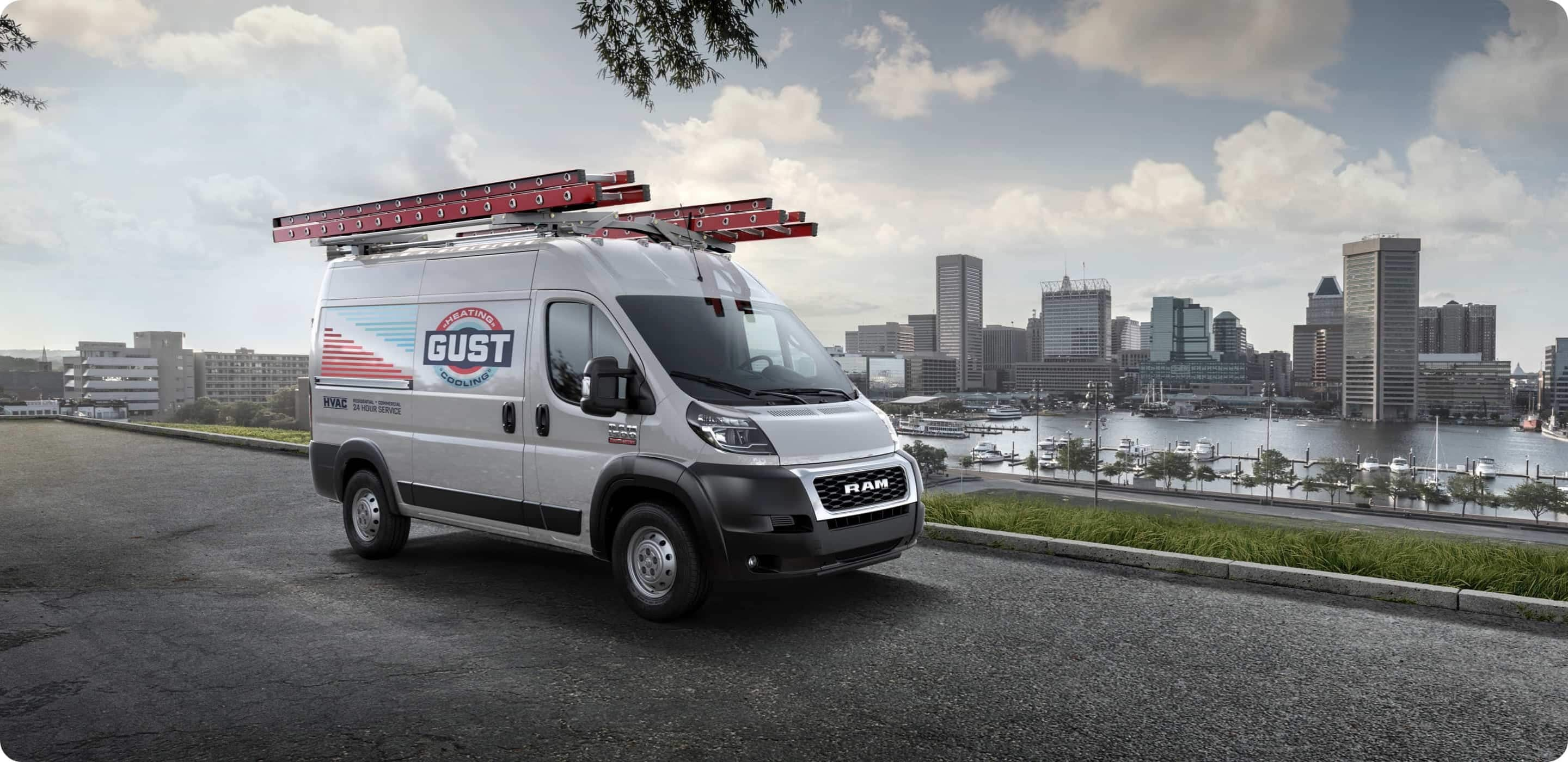 Ram ProMaster City
The RAM ProMaster City might be a touch smaller than the ProMaster, but it's just as powerful! Consumers can expect a 2.4-liter four-cylinder engine that boasts a best-in-class 178 horsepower and 174 lb-ft of torque under the hood. Also, best-in-class is the payload capacity as the ProMaster City can haul up to 1,900 pounds. Inside the cabin, the ProMaster City provides you with all the bells and whistles you need to get the job done, such as a rear backup camera, rear park assist, you also get fog lamps, and seven standard airbags. The Uconnect 3 system comes with a 5-inch touchscreen, integrated voice command, hands-free calling, and convenient steering wheel controls.
2.4-Liter Four-Cylinder Engine
1,900-Pound Payload Capacity
5-Inch Touchscreen
Rear Backup Camera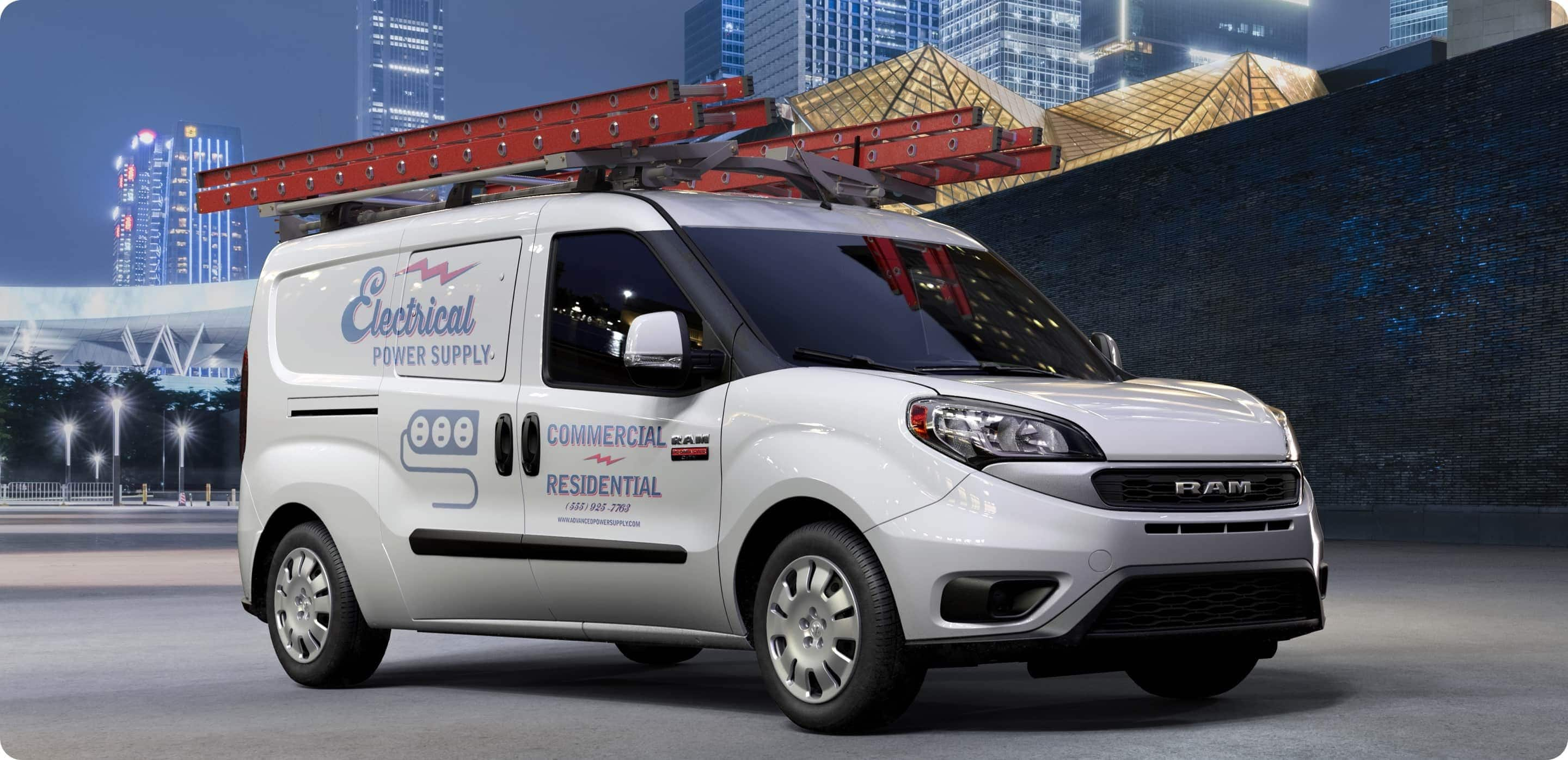 Ram 3500
With the Ram 3500, you get one of the most capable trucks on the planet as it comes standard with a 6.4-liter V8 engine capable of producing a best-in-class 410 horsepower and 429 lb-ft of torque, which pairs with an eight-speed automatic transmission. The engine allows the RAM 3500 to tow up to 18,210 pounds with a maximum payload capacity of 7,680 pounds. If you are looking for a diesel engine, the Ram 3500 gives it to you with a 6.7-liter six-cylinder turbodiesel with 420 horsepower and can tow a whopping 37,100 pounds. Inside the cabin, the Ram 3500 comes with a digital rearview mirror, a digital cluster display, off-road pages, a huge 12-inch touchscreen with Apple CarPlay, Android Auto, and an available 4G wi-fi hotspot.
Standard V8 Engine
37,100 Pound Towing Capacity
Digital Rearview Mirror
Apple CarPlay/Android Auto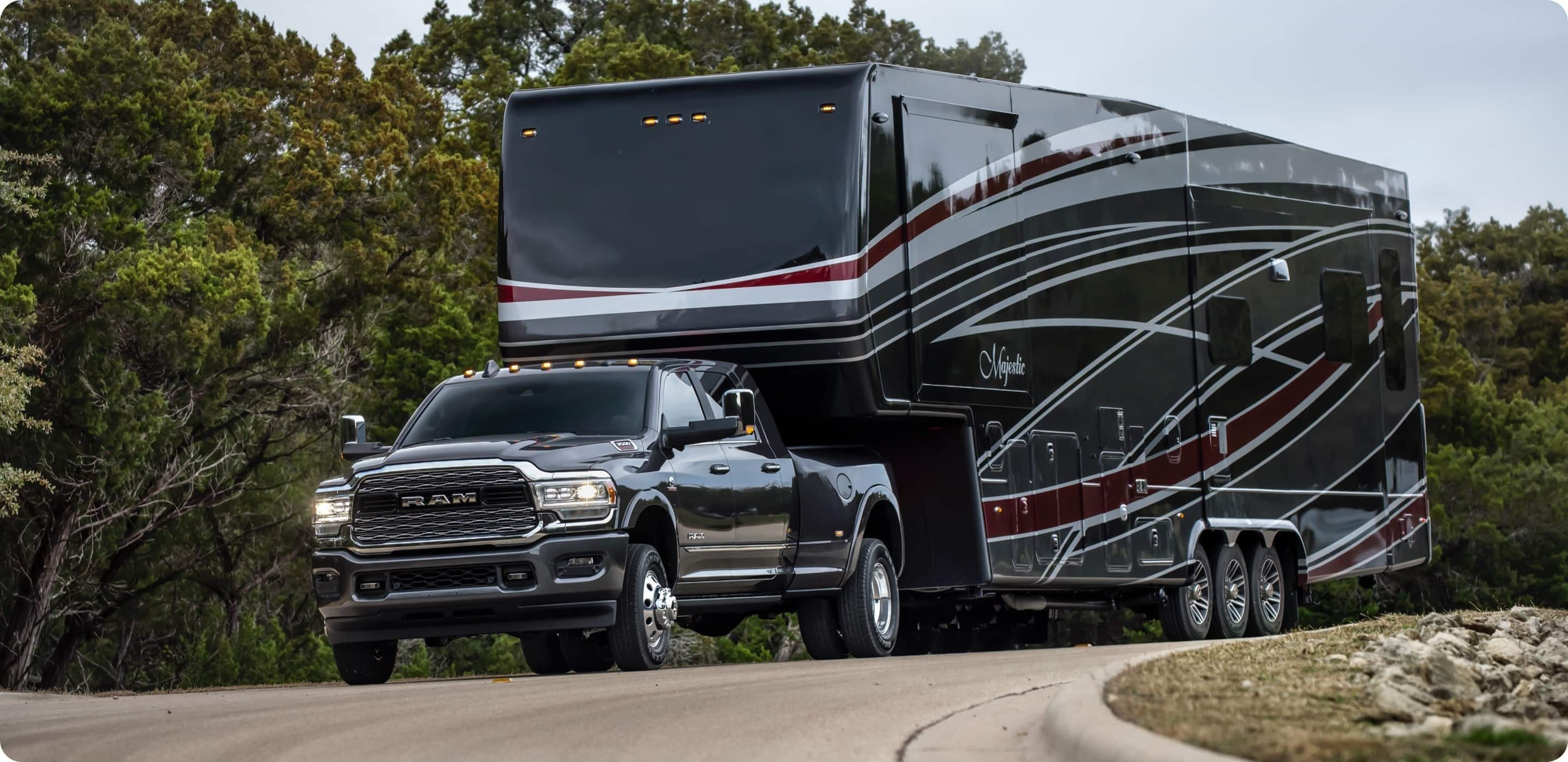 Ram 2500
Next up is the Ram 2500, which has a 6.4-liter V8 engine capable of producing a best-in-class 410 horsepower, which allows it to haul up to 17,540 pounds with a payload capacity of 4,010 pounds. The Ram 2500 also comes with several smart towing features such as a 360-degree surround-view camera, trailer monitoring, and a class-exclusive auto-level rear air suspension. As for tech features, the Ram 2500 has an upscale and high-tech cabin with an available 12-inch touchscreen with split-screen capability, Apple CarPlay, Android Auto, and premium surround sound provided by a 17-speaker Harmon Kardon audio system. You also get premium safety systems with forward collision warning and adaptive forward lighting.
Best-In-Class 410 Horsepower
17,540-Pound Payload Capacity
Harmon Kardon Audio System
Adaptive Forward Lighting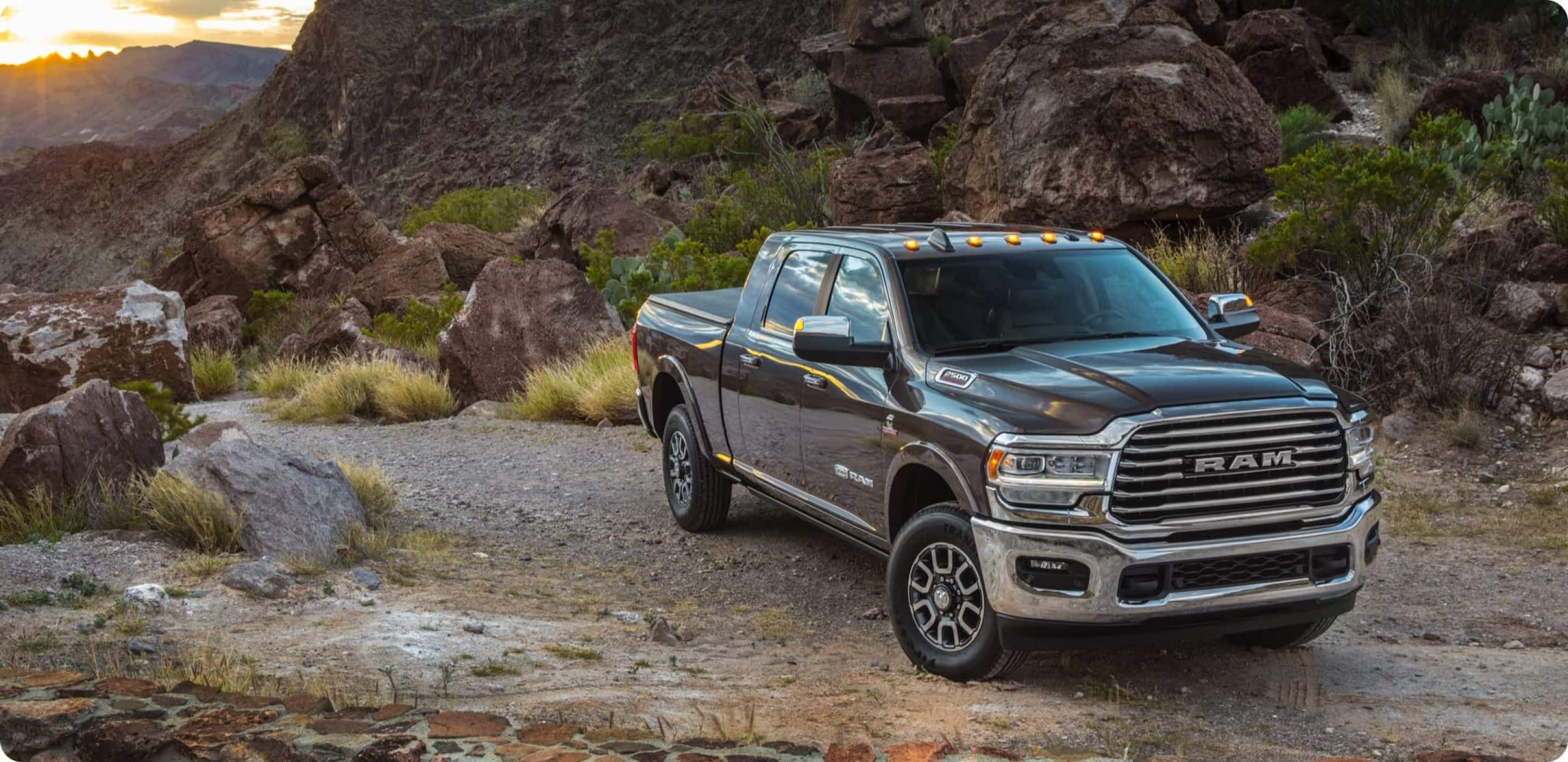 Ram 1500
One of the most popular pickups on the market is the RAM 1500, and there are several reasons why! The Ram 1500 has power for the long haul with several available engines, including a standard 3.6-liter V6 that produces 305 horsepower and 269 lb-ft of torque. When you equip the Ram 1500 with the V8 engine, it can tow up to a mind-boggling 12,750 pounds. The interior of the Ram 1500 is luxurious. It comes with premium materials and several advanced features such as a head-up display, noise-canceling technology, a panoramic sunroof, and an available 12-inch touchscreen. The rear legroom is the best in its class at 45.1 inches. Several safety systems are also available, including blind-spot monitoring, forward collision warning, and advanced airbag protection.
Standard 3.6-liter V6 Engine
Tows Up to 12,750 Pounds
Panoramic Sunroof
Noise-Canceling Technology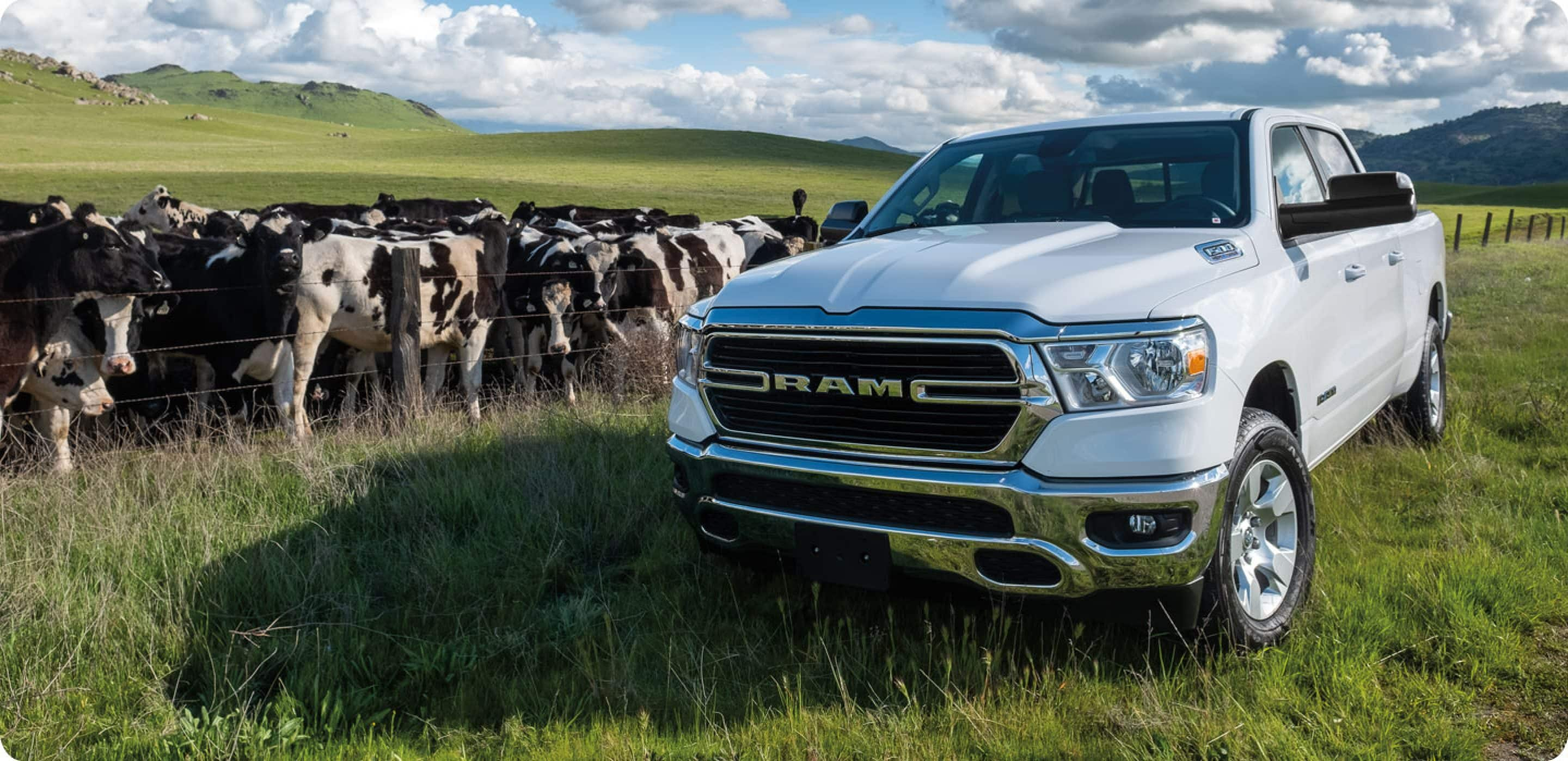 Get a Ram commercial vehicle at Len Stoler Dodge Chrysler Jeep
Has one of these powerful Ram commercial vehicles caught your eye? Head down to Len Stoler Dodge Chrysler Jeep and have our sales experts help you pick out the one that's best for you! You can even test-drive all of these vehicles, so you get a feel for each one of them. If you find something, you like be sure to stop by the finance department where we will help you get a wonderful deal. Can't make it down to the dealership? Be sure to check out the entire Ram commercial inventory here on our website.